2F
Lounge, cafe "Hidamari"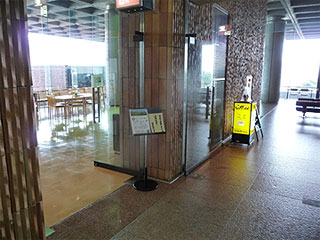 The free lounge has vending machines and is connected to the Hidamari Cafe, where light meals are available for around 500 yen. From this area you can get a spectacular view of Mt. Iwate just as can be seen from the Grand Hall. Food and drinks are prohibited in the Grand Hall, but here they are allowed. Why not enjoy a coffee break while gazing at Mt. Iwate.
Hours: 10:30 a.m. - 2:30 p.m.
Menu sample:
Coffee (280 yen), tea (250 yen), onigiri (220 yen), udon noodles (380 yen), curry and rice (500 yen), etc.